Bibimbap with Spicy Marinated Tofu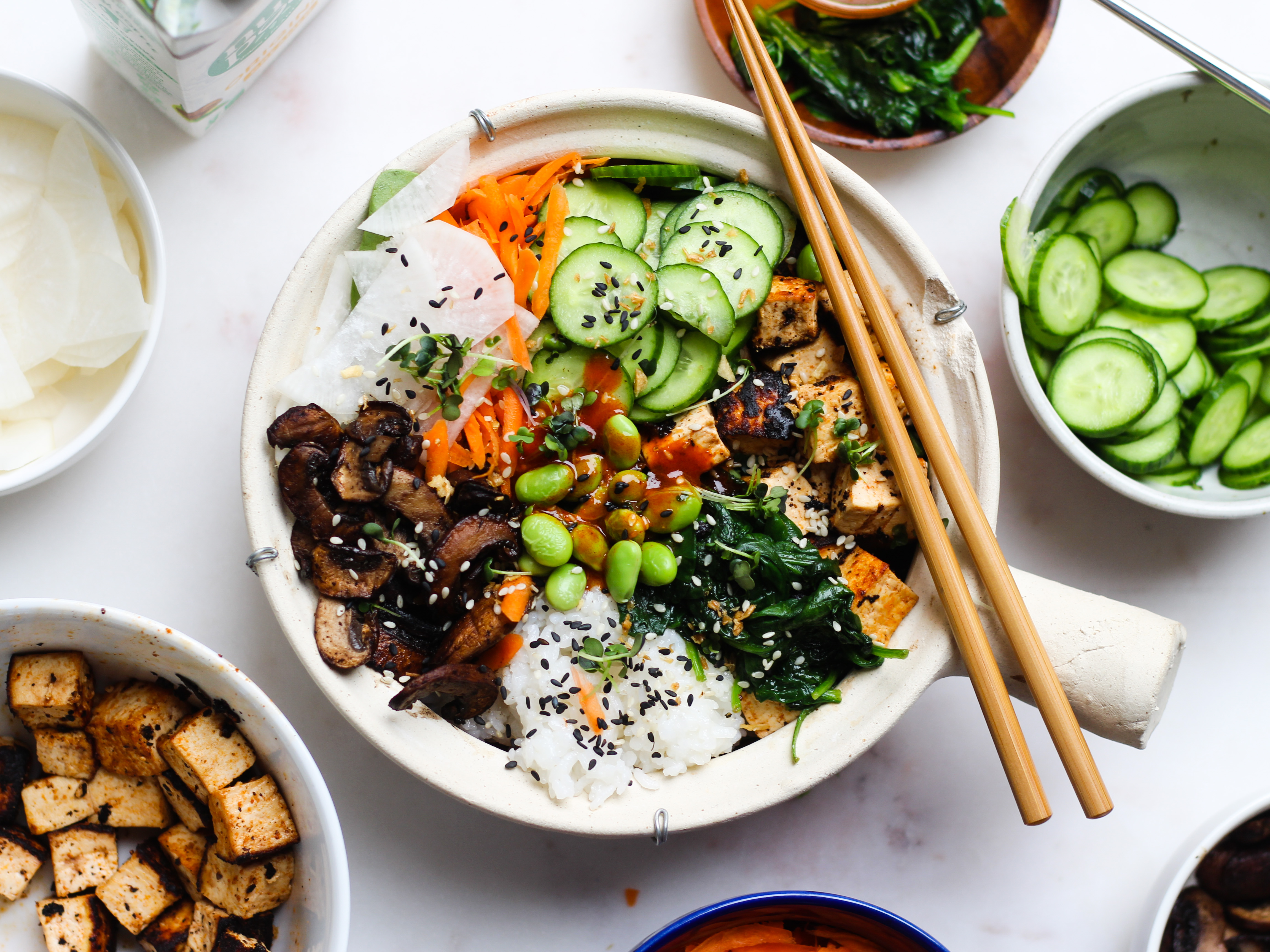 Level: Harder Than Easy
Prep Time: 30 min
Total Time: 40 min
Serves: 2-3
Description
Bring the flavors with this Bibimbap! Filled with veggies like daikon, cucumbers, carrots, edamame paired with a spicy marinated tofu with nutpods creamer and a gochugang sauce. 
Ingredients
2 sliced Persian cucumbers
1 cup Sautéed Spinach
1 cup sliced mushrooms (of your choice)
½ cup Thinly Sliced Daikon
½ cup Shaved Carrots
1 cup steamed white sticky or sushi rice
Spicy Marinated Tofu
3 T nutpods Original Creamer
1 T Sriracha

½ T Sesame Oil
1 T Soy Sauce
½ tsp Sesame Seeds

1 cup cubed tofu

Gochujang Sauce

½ tsp Sugar
1 T Gochujang

1 tsp Sesame Oil
1 tsp Vinegar
Garnish
Microgreens, edamame
Instructions 
Start to assemble and prep all your components to the bibimbap. Slice your cucumbers, daikon and shave your carrots.
Heat a pan with olive oil and cook down and wilt your spinach with a drizzle of olive oil and salt and pepper to taste. Set aside and add in your sliced mushrooms and grill until cooked and caramelized through.
In the meantime, marinate your cubed tofu with nutpods original creamer, Sriracha, sesame oil, soy sauce and sesame seeds. Set aside to marinate for 30 minutes to 1 hour (if you'd like you can also do this overnight, but it's not necessary.)
In the same pan as the mushrooms and spinach, grill your marinated tofu until all the sides are crispy and the inside of the tofu is soft.
Make your gochujang sauce by mixing sugar, gochujang, sesame oil and vinegar in a bowl as well as making your rice. Time to assemble your bowl! Place your rice, then the vegetables, your tofu and garnish with edamame and microgreens.
Category: Main Dishes