Creamy Mushroom Gravy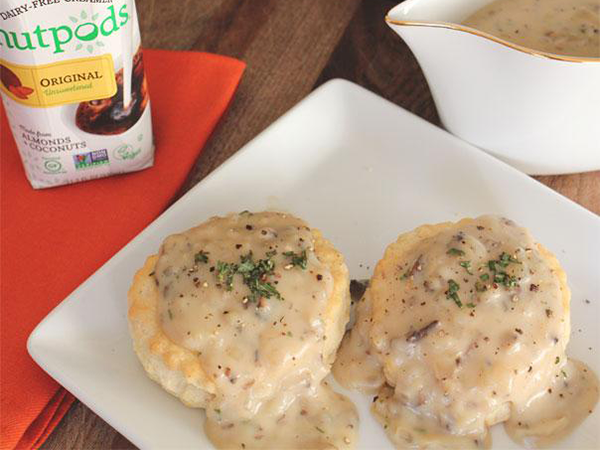 Level: Easy Peasy
Prep Time: 5 min
Total Time: 10 min
Serves: 6-8
(makes 2 cups, 20 minutes)
Ingredients
4 tbsp non-dairy butter substitute (earth balance)
1 cup mushrooms, finely minced
1/2 small onion, finely minced
4 tbsp all-purpose flour
2 tbsp white wine (optional)
1 1/2 cups vegetable stock
1/2 cup Nutpods (original flavor)
1/2 tsp fresh rosemary, minced
salt and pepper to taste
Instructions
Finely chop mushrooms and onion.
In a large saucepan over medium heat, add non-dairy butter, mushrooms and onion. Cook until onion is translucent and mushrooms are soft, 5-10 minutes. Stir frequently to prevent browning.
Sprinkle flour evenly over mushroom mixture, mix in and cook for 1 minute.
Add white wine (if using), vegetable stock and Nutpods. Cook, stirring continuously, until sauce is thick and creamy, 5-10 minutes.
Remove from heat and add fresh rosemary. Adjust seasoning with salt and freshly ground pepper to taste. Serve immediately.
Weight Watchers Smart Points: 3 points
Category: Side Dishes