Peaches N' Cream Chia Pudding Parfait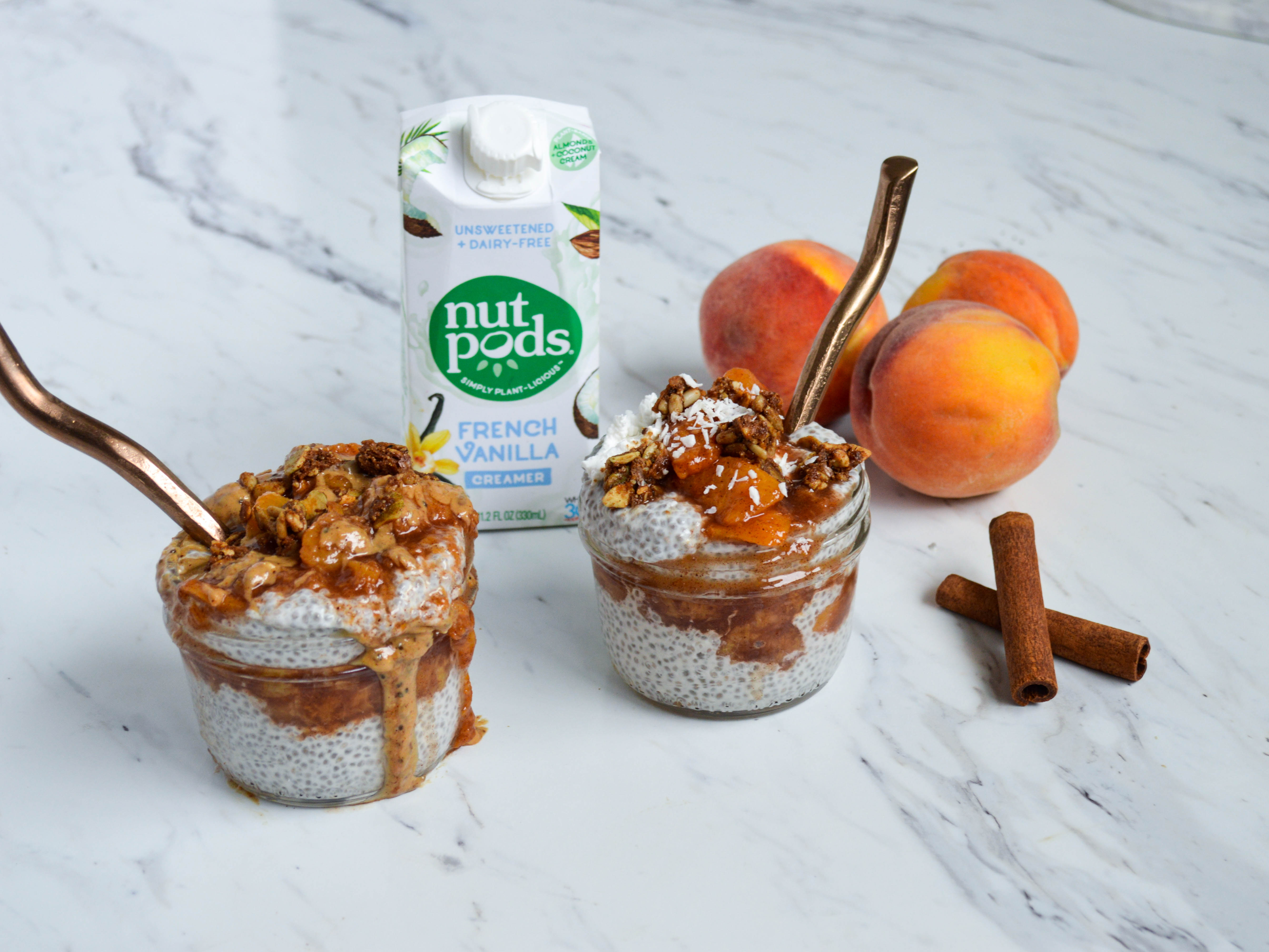 Level: Easy Peasy
Prep Time: 0 min
Total Time: 20 minutes + 2 hours minimum to chill min
Serves: 2
Chia pudding has been a staple in my household all summer long. I love how easy and versatile it is -- simply whisk the ingredients together in a bowl, let it chill overnight, then enjoy it all week as an on-the-go healthy breakfast, snack or sweet treat.
While there are tons of ways to jazz up chia seed puddings, this Peaches N' Cream version is without a doubt my favorite. Peaches are in currently in prime season -- so now is the time to make this delish dish!
Ingredients
For The Peach Compote:
6 ripe peaches, peeled, pitted and chopped
1/4 cup pure maple syrup
1/4 cup water
1 tsp cinnamon
For The Chia Pudding : 
1 1/2 cups nutpods French Vanilla Creamer
1/2 cup chia seeds
2-4 tbsp maple syrup (depending on preferred sweetness)
1 tsp vanilla
1/8 tsp sea salt
Preparation
To make the peach compote add all ingredients to a stovetop saucepan and bring to a boil. Once boiling, reduce to simmer (medium-low heat) for 15-20 minutes, stirring occasionally until mixture is thick and has a jammy consistency.
While cooking peach compote, whisk together all chia pudding ingredients together in a bowl. Store in the fridge for a minimum 2 hours to chill, although I like to leave mine overnight for the best results (the base will be completely set and thick by then).
When ready to eat, layer pudding with peach compote in mason jars (especially convenient when eating on the go) or bowls, then top with desired toppings. I think a scoop of coconut yogurt, a drizzle of nut butter and a sprinkling of grain-free granola perfectly complements this parfait!
Category: Breakfast