Creamy Vanilla Lemon Oats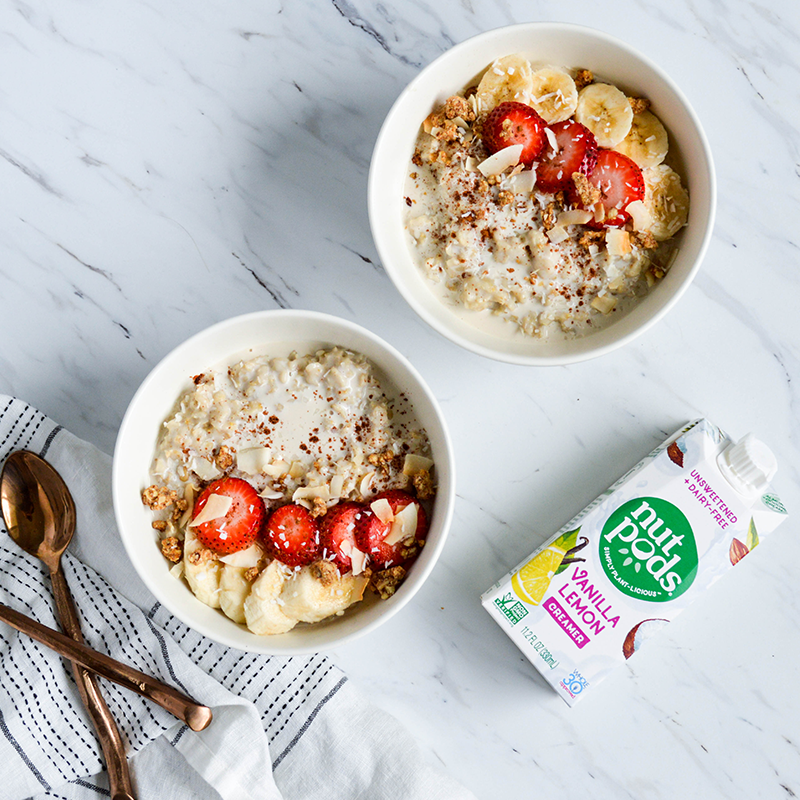 Level: Easy Peasy
Prep Time: 1 min
Total Time: 5 min
Serves: 1
These oats are anything BUT basic. The nutpods Vanilla Lemon Creamer lends decadent, bright and slightly sweet notes, while the toppings take the nutrients + taste to the next level. The perfect pick me up when you need something satisfying, easy and delicious for breakfast. 
Ingredients
1 cup nutpods Vanilla Lemon Creamer
1 cup water
2/3 cup certified gluten-free rolled oats
1 tbsp flaxseed
1 tbsp coconut oil or butter
1 tsp cinnamon
Optional toppings: sliced fruit (I recommend strawberries + banana), coconut shreds or flakes, nut butter, more coconut oil or butter, maple syrup or chopped dates, and more nutpods Vanilla Lemon Creamer)
Instructions
Bring the creamer and water to a slow boil in a stovetop pot over medium-high heat. 
Add in the oats, flaxseed, coconut oil or butter and cinnamon and stir well, cooking on medium- medium low heat for about 5-8 minutes.
Remove from heat and dish into a large bowl. Oatmeal should be a bit on the liquid side, you want it creamy as it will continue to firm. 
Top with toppings of choice and enjoy!
Category: Breakfast