Irish Cream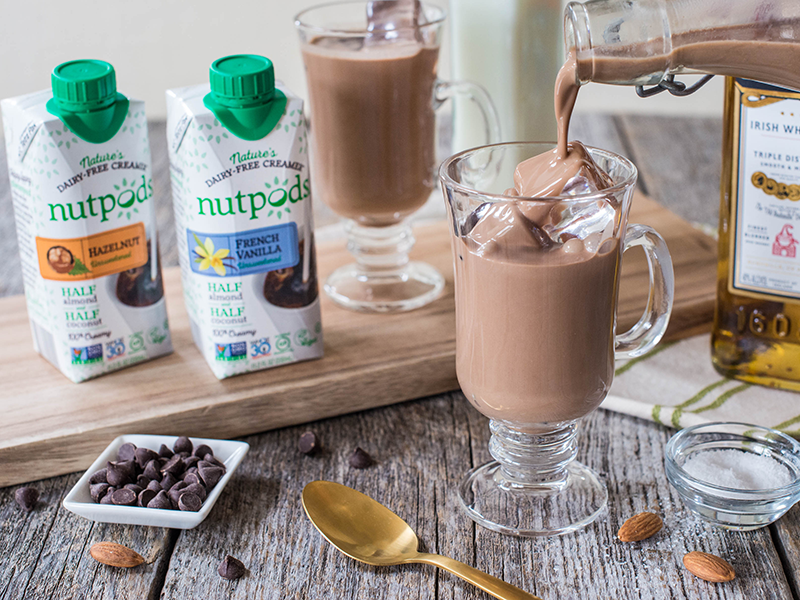 Level: Harder Than Easy
Prep Time: 5 min
Total Time: 5 min
Serves: 2
Whether you're serving this vegan Irish Cream over ice or stirred into coffee, this silky and not-too-sweet boozy concoction is sure to please. For a more traditional Irish cream, use vanilla-flavored Nutpods; if you're feeling more adventurous, stir in our hazelnut-flavored variety!
Serve over ice, or add a splash of this whiskey, espresso, chocolate and coconut liqueur to your coffee or hot chocolate.
Ingredients
1 1/4 cups Nutpods (hazelnut or vanilla)
1/4 cup vanilla non-dairy milk of choice
3/4 ounces 42% cacao dark chocolate chips (about 2 tablespoons)
1 1/2 teaspoons sugar
1/2 teaspoon salt
1/4 cup strong brewed espresso, or to taste
1/4 cup Irish whiskey, or to taste
Instructions
Combine Nutpods and non-dairy milk in a saucepan over medium heat. Whisk in chocolate, sugar and salt. Bring to a low simmer, stirring frequently, until chocolate is melted, 1 to 3 minutes.
Remove from the heat and stir in espresso and whiskey. Transfer to a clean, airtight container and let cool. Store in the refrigerator for 7 to 10 days. Shake well before using.
Category: Beverages