Soba Noodle Peanut Stir-Fry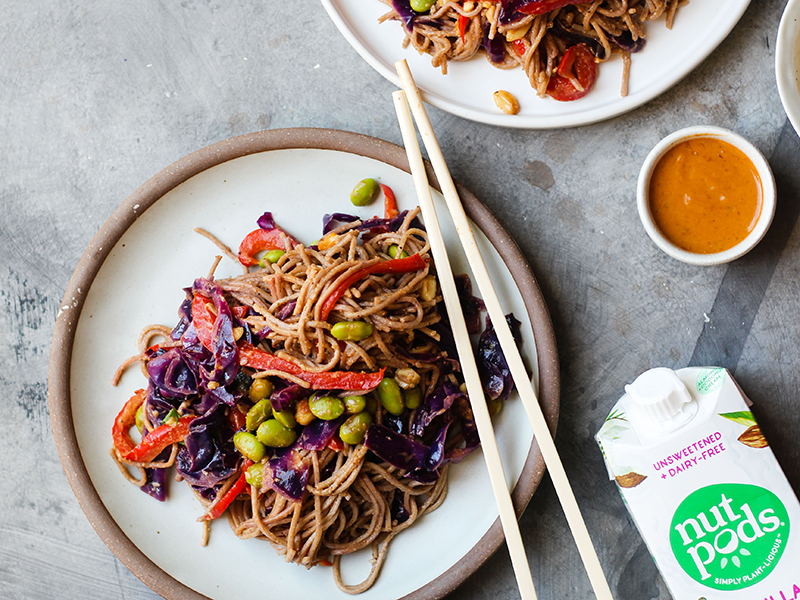 Level: Harder Than Easy
Prep Time: 15 min
Total Time: 25 min
Serves: 3-4
Ingredients
1 packet of Soba Noodles

1 cup red bell pepper

1 cup red cabbage

1 cup edamame
Peanut Sauce
1 tbsp nutpods Vanilla Lemon

1 tbsp soy sauce

2 1/2 tbsp peanut butter

1 tbsp Sriracha (depending on how spicy you want)

1 tsp garlic powder

1 tbsp sesame oil

1 tsp sesame seeds

Squeeze of lemon

Salt and pepper to taste
Toppings
Instructions 
Start to cook your soba noodles according to your package instructions, set aside and cool.

In the meantime, heat up a wok or skillet with a drizzle of olive oil and add in your red bell pepper, red cabbage and edamame with salt and pepper to taste.

While that's sautéing, make your peanut sauce by mixing 1 tbsp of nutpods Vanilla Lemon, soy sauce, peanut sauce, Sriracha, garlic, sesame oil, sesame seeds, lemon and salt and pepper.

Add your soba noodles in the stir fry veggies and mix in your peanut sauce. Serve along side crushed peanuts and lemon wedges.
Category: Main Dishes