Spiced Chai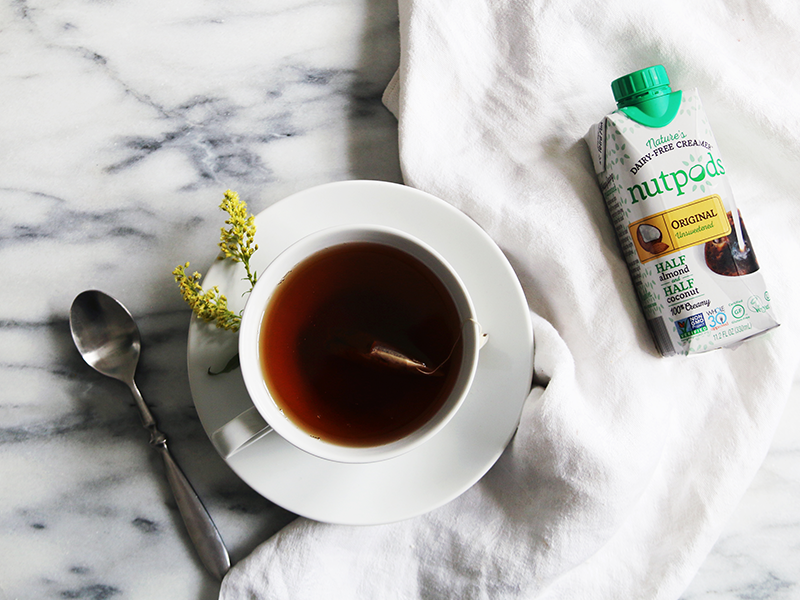 Level: Medium
Prep Time: 3 min
Total Time: 5 min
Serves: 1
INGREDIENTS
2 bags of Chai blend tea per every 10oz of boiling water
(or, your favorite loose leaf Chai tea blend)
1 thumb­sized piece of ginger root, peeled and roughly chopped
1 anise seed pod
2­4 cloves
2­4 peppercorns
1 cinnamon stick
nutpods Hazelnut creamer
Note: There are Whole30 compliant Chai tea blends widely available, but some brands do use stevia or other sweeteners in their tea blends. Be certain to read your labels.
INSTRUCTIONS
CUT open desired amount of tea bags, and empty them into a French Press. Add the ginger, anise seed pod, cloves, peppercorns and cinnamon stick. Slowly pour desired amount of just­ boiled water over the tea. Gently stir the beverage to combine.
SET a timer for 5 minutes. In the meantime, warm a ceramic mug with extra boiling water. When mug is warm, discard the water and add your desired amount of nutpods Hazelnut creamer.
WHEN five minutes has passed, plunge the French Press. Pour the tea into the mug and stir with a wooden stick to combine the tea and the creamer. Snuggle up with your favorite novel, and savor.
Weight Watchers Smart Points: 5 points
Category: Beverages