Vanilla Lemon Coconut Fat Balls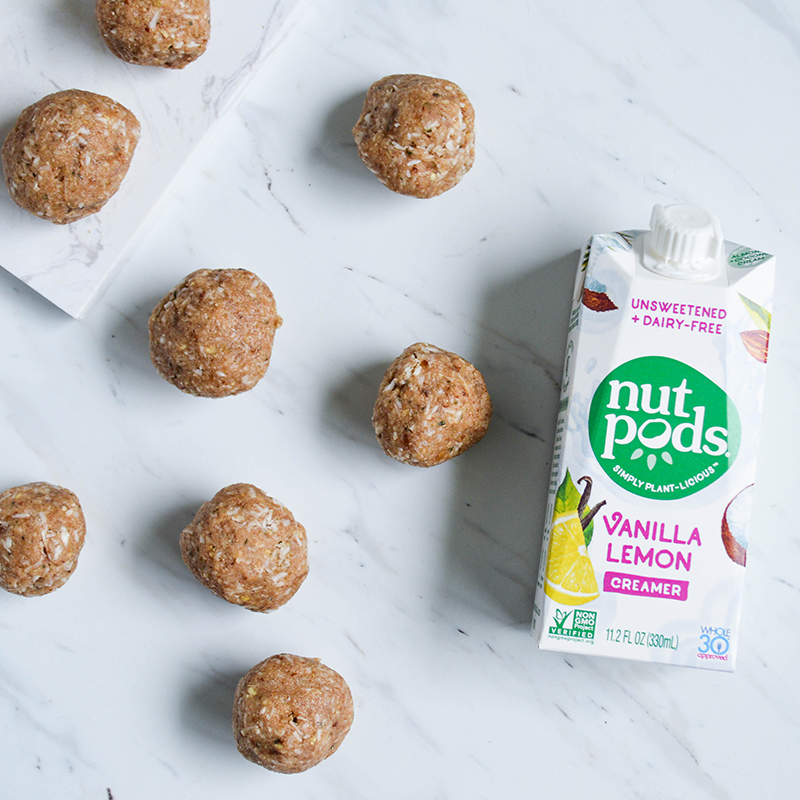 Level: Easy Peasy
Prep Time: 0 min
Total Time: 15 min
Serves: 12-18 Balls
Description: 
My go-to snack whenever a hunger pang or sweet craving hits -- these fat balls are slightly sweet and seriously satisfying. They're also low in sugar and rich in healthy fats, so they won't spike your blood sugar and keep energy levels stable, perfect for a pre or post-workout pick me up too!
Ingredients: 
1 1/2 cup coconut shreds (reserve 1/2 cup for rolling balls at the end)
1/3 cup nutpods Vanilla Lemon creamer
1/2 cup coconut oil, melted
1/4 cup coconut butter, melted
1/2 cup hemp seeds
1/2 cup raw cashews
1/2 cup raw pecans
1 tsp cinnamon
4 medjool dates (pitted and chopped)
Instructions: 
Blend all ingredients (except for 1/2 cup coconut shreds) in a food processor until dough is achieved. It should be thick, well-mixed and wet.
Roll into bite sized balls (Pro-tip: if dough is too wet/sticky to roll, try chilling in the fridge for 10 minutes to firm up).
Once balls are rolled coat them in the remaining coconut shreds, then lay them flat in an air-tight container and chill in the fridge for 10 minutes before eating. You can also freeze them too!
Category: Snacks