Vegan Spinach and Artichoke Dip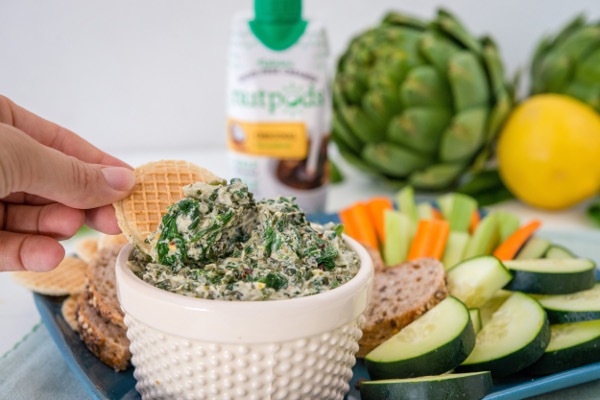 Recipe Credit:
Jackie Freeman
Photo Credit:
Anne Watson
Serves 10 to 12
The classic party pleaser, this creamy vegan artichoke dip gets a pop of flavor from fresh lemon zest and red pepper flakes. Serve it with your favorite crackers, bread, or sliced vegetables.
Ingredients
1 1/4 cups raw cashews
2 tablespoons olive oil
5 cloves garlic, minced
1 pound fresh baby spinach
1 lemon, zested and juiced
Salt and pepper, to taste
Red pepper flakes, to taste (optional)
1/2 cup original nutpods
1 (14-ounce) can artichoke hearts, drained
Instructions
Soak cashews in water overnight. Drain.

Heat oil in a large sauté pan over medium heat. Add garlic and cook until fragrant, about 2 minutes. Add spinach and lemon juice, in batches if needed, and cook until wilted. Season with salt, pepper, and red pepper flakes. Let cool, then squeeze out excess liquid.
Combine cashews and nutpods in a food processor. Process until smooth and creamy, scraping down the sides of the bowls as needed. Transfer to a large bowl. Pulse spinach and artichoke hearts in the food processor, to the desired texture (see note).

Using a spatula, combine cashew cream, spinach, artichokes, and lemon zest. Season to taste with salt and pepper. Refrigerate until ready to serve.

Note: For a smoother dip, pulse the spinach and artichokes until very fine. For a chunkier dip, only pulse a few times.