Caramel FRAP'POD'CCHINO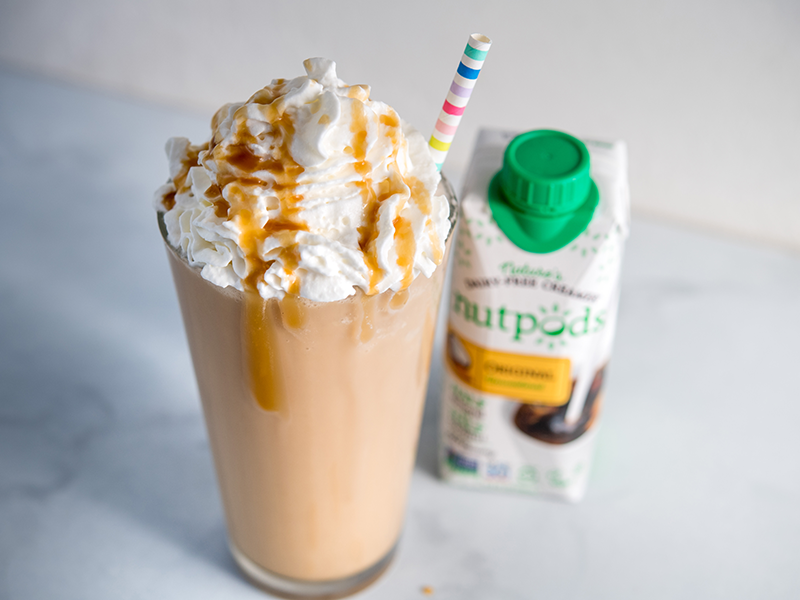 Level: Medium
Prep Time: 10 min
Total Time: 10 min
Serves: 1
Ingredients
2/3 cup very strong coffee or espresso (very cold)
5 tbsp Nutpods
1-2 tbsp Nutpods Caramel* plus more on top (or sweetener of choice if not making caramel)
2 cups ice
Instructions
Brew very strong coffee (should be too strong to drink alone) or espresso. Chill in the fridge for at least 2 hours.
Add all ingredients to the blender and mix, starting on low and getting gradually to high, until all ice is crushed, about 1-2 minutes. You may need to stop the blender and scrape the sides down.
Add some caramel to the inside of your glass, add blended mixture and top with non-dairy whipped cream and even more caramel!
*Nutpods Caramel
Ingredients
(makes about ¾ cup Caramel)
1 cup sugar
2 tbsp non-dairy butter
1/3 cup Nutpods (vanilla or original)
1/4 tsp salt
Instructions
Gather and measure all ingredients so they're handy when you need them. If you don't have them ready it's easy to burn the caramel. Be very careful while making caramel—melted sugar is much hotter than boiling water.
Place a medium-size, heavy-bottom saucepan with high sides on medium high heat. Add sugar and stir continuously as sugar begins to melt. As soon as sugar is all melted stop stirring and only swirl the pan. Watch the entire time as sugar can burn very quickly.
As soon as all the crystals have melted and the sugar is a dark amber color, remove from heat and immediately add butter while stirring. The difference between dark amber and burnt can be as little as 10 seconds so watch closely.
Once butter is melted right away add Nutpods in a slow stream and mix well. NOTE: when butter and Nutpods are added mixture will foam up and bubble. Be very careful—it's extremely hot. Stir until creamy and blended.
Stir in salt and pour caramel into a jar. Let caramel cool to room temperature and refrigerate extra for up to 2 weeks.
Category: Beverages