Dark Chocolate Orange Lava Cake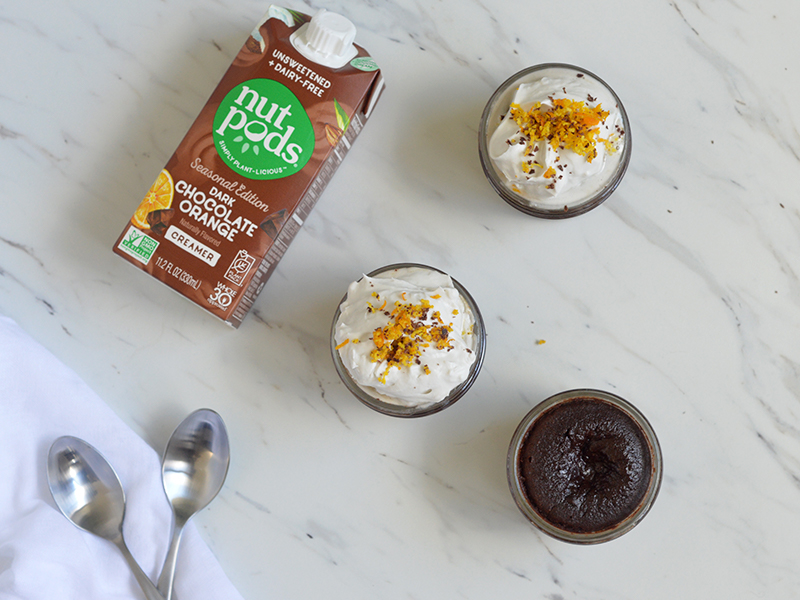 Level: Medium
Prep Time: 0 min
Total Time: 30 min
Serves: 4
Chocolate Molten Lava Cakes are a dessert that screams "special occasion" but this easy and healthy recipe makes it possible to enjoy it whenever you feel like a better for you treat
It only takes 30 minutes to make, and it's completely paleo and vegan, deriving its delicious flavor from nutpods dairy-free Dark Chocolate Orange creamer, melted dark chocolate chips and a secret ingredient that keeps it fluffy, light and moist. Try topping it with coconut whipped cream and orange zest for a real treat.
Ingredients
½ cup nutpods Dark Chocolate Orange Creamer + 1 tsp lemon juice

½ cup unsweetened applesauce

1 heaping cup Bob's Red Mill Paleo Baking Mix

¼ heaping cup coconut palm sugar

¼ cup cacao powder

¼ cup dairy-free dark chocolate chips, melted

2 tbsp coconut oil, melted

½ tsp vanilla extract

½ tsp baking powder

¼ tsp sea salt

For topping/lava center -- more dark chocolate chips +

coconut whipped cream
Instructions
Preheat the oven to 375 F and set aside 4 small glass mason jars or ramekins.

Add the nutpods Dark Chocolate Orange creamer and lemon juice to a medium-sized mixing bowl and mix. Let sit for a few minutes.

Add the coconut sugar, oil, vanilla, applesauce and beat in with the creamer and lemon juice until foamy.

Add in cacao powder, paleo flour, baking powder, and salt and continue mixing until well-combined.

Lastly, add the melted dark chocolate chips and mix once more.

Divide the batter evenly between the four glass jars or ramekins. You can also use a muffin tin. Make sure batter comes about to the top.

Spoon about a tsp of dark chocolate chips (or chocolate bar, broken) and push it down into the center of the cakes. Cover with batter.

Bake 20 minutes, until edges are pulling away from the jar and the top is puffy and no longer appears wet. It should be a little fudgey but still baked, especially around the edges and top, bake longer if underdone.

Let rest and chill at least 5 minutes before eating. Top with coconut whipped cream and orange zest if you desire.
Category: Desserts