Butternut Cream Soup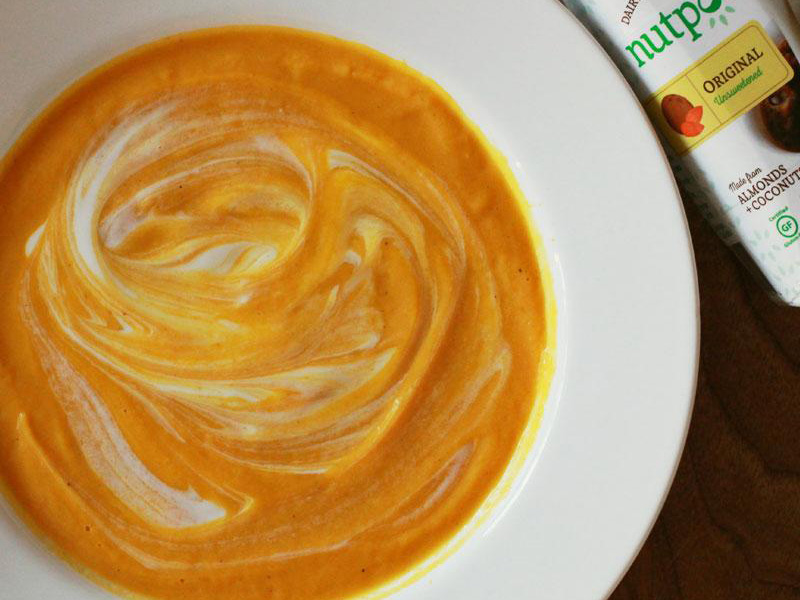 Level: Easy Peasy
Prep Time: 5 min
Total Time: 25 min
Serves: 2-4
Ingredients
1 tbsp olive oil
1 large white onion, diced
1 whole butternut squash, peeled and diced
1 large carrot, peeled and chopped
2 cups vegetable stock
1 tbsp maple syrup
1/4 - 1/2 tsp salt (less if your stock is salted)
1/2 tsp curry powder
1/2 cup Nutpods (original)
Optional Garnish:
Non-dairy sour cream
Crushed pecans
Instructions
Remove membrane from squash using a peeler, halve, remove seeds and chop into 1-inch cubes. Chop onion. Peel carrot and chop.
In a large pot over medium heat, add olive oil and onions. Cook for about 5 minutes or until onions are soft and transparent.
Turn heat down to medium low. Add stock, squash and carrot. Cover and cook until squash is very soft, 20-30 minutes.
Carefully tilt pot and remove about 1 cup of cooking liquid.
Using extra caution, pour soup into your blender. Add maple syrup and curry powder. Blend on high for 1 minute. Soup should be very smooth with no lumps.
Add Nutpods and salt to taste. Blend once more just to incorporate.
Garnish with a swirl of non-dairy sour cream or some finely chopped pecans.
Category: Soup