Sun-Dried Tomato Cream Sauce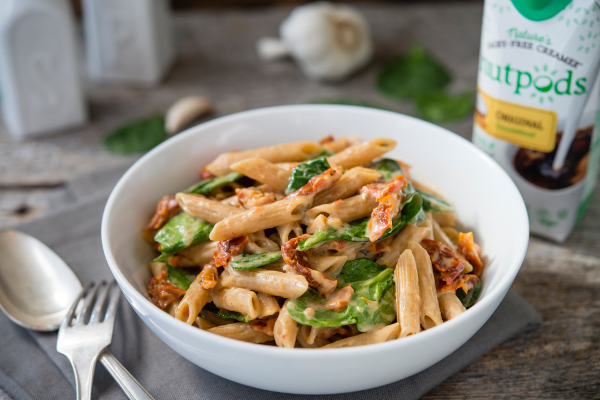 Level: Harder Than Easy
Prep Time: 15 min
Total Time: 35 min
Serves: 10
Ingredients
16 ounces penne or other pasta (I use gluten free)
2 T butter (or vegan butter)
3 cloves of garlic, minced
1 1/2 T flour (an all-purpose gluten-free flour works fine)
3/4 cups chicken broth or vegetable broth
3/4 cup nutpods, plain
3/4 cup dried tomatoes in olive oil, drained and roughly chopped
1 cloves garlic, minced
1/4 teaspoon dried oregano
1/4 teaspoon dried basil
1/4 teaspoon red pepper flakes, or more, to taste
Salt and freshly ground black pepper, to taste
Two big handfuls of fresh baby spinach
Instructions
Cook pasta according to package instructions while you make the sauce.
To make the cream sauce: Melt butter in a large skillet over medium heat. Add garlic and cook, stirring frequently, until fragrant, about 1-2 minutes. Whisk in flour until lightly browned, about 1 minute. Do not burn! Gradually whisk in chicken broth and cook, whisking constantly, until incorporated, about 1-2 minutes.
Stir in plain nutpods, sun dried tomatoes, garlic, oregano, basil, and red pepper flakes until slightly thickened, about 1 minute. Season with salt and pepper to taste. If your sauce is too thick (the kind of flour and butter products you use may thicken it too much), just add in a few more tablespoons of broth to thin to your liking.
Stir in pasta and fold in the spinach until well combined and the spinach has wilted.
* Note: This is a pretty flexible dish, so feel free to add in cooked chicken, sausage, or shrimp!
Category: Main Dishes